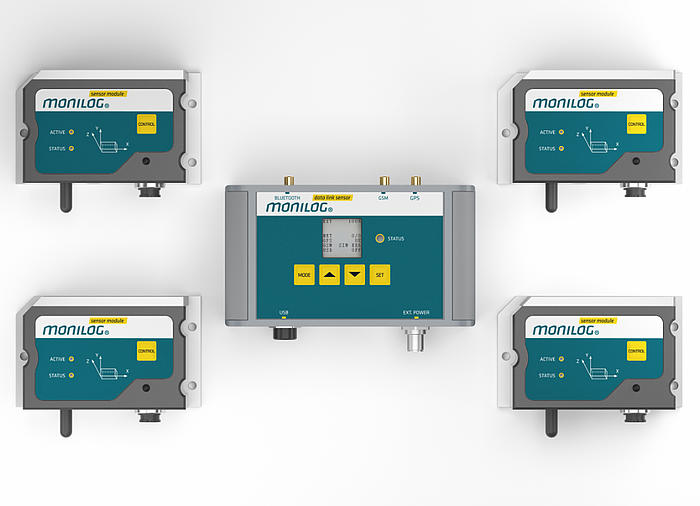 Radio sensor network compromising up to 8 autonomous sensor modules
Provide real-time monitoring of sensitive transports for optimum conditions in transport,packaging and storage
Continuously records shock, inclination, temperature, humidity, pressure and incidence of light
Highly configurable and flexibly adaptable for various applications
For the long-term monitoring of oversizing systems and machines
Automatic transmission of GPS geo-position, data measurements, alarm and status signals by e-mail
Centralized GSM/UMTS transmission unit with integrated GPS receiver for exact position determination
Individually-adjustable registration and alarm thresholds, scalable number of measuring points
Ultra-long operating time and high reliability even under extreme environmental conditions
Incorporates powerful, license-free PC software, password protected and secured against malevolent attacks
Cloud-based web portal for convenient on-line administration and tracking of transportation route
Exact evidence of the transport quality
Product description:
The MONILOG® sensor network consists of the MONILOG® data link sensor base station and up to 8 MONILOG® sensor modules of radio data loggers.
The compact, energy-efficient and highsensitivity sensor modules capture data relevant to transport, such as shocks, acceleration, temperature, humidity, air pressure, inclination and light.
All data are collected via a Bluetooth lowenergy radio interface in the base station.
It transmits them at adjustable intervals via a mobile network as an e-mail to the desired recipient or directly to the MONILOG® web portal.
If a configured limit value for measured data is exceeded, a message is sent to the base station.
It records the current GPS position and immediately sends an alarm mail.
Critical events during a transport can thus be tracked in real time and the user can react to possible risks for his sensitive freight.
If a UMTS connection is not possible, the base station automatically switches to an available GPRS network.
The stored GPS coordinates can be imported and clearly displayed in Google Earth®, Bing or Openstreetmap.
In addition to the event-controlled position determination in the event of an alarm, route tracking is also possible.
The small radio data loggers can be installed particularly well in places which are difficult to access or move.
Robust housings protect the devices of the sensor network from dust and splash water.
An optimised energy management ensures a long and maintenance-free operating time.
Commercially available alkaline or lithium batteries guarantee running times of more than 2 years under extremely harsh conditions.
The functions of the base station and the individual sensor modules can be intuitively adapted to the respective requirements with a license-free PC software.
All collected data is displayed in the table of measured values and diagrams and can be exported to external programs such as Microsoft Excel.
The analysis of the data helps to reconstruct possible damage cases, analyse and optimize shipping processes.
The MONILOG® sensor network is an indispensable goods companion for international freight transport both on rails and on roads, on water and in the air, on transhipment points and in storage rooms.
data link sensor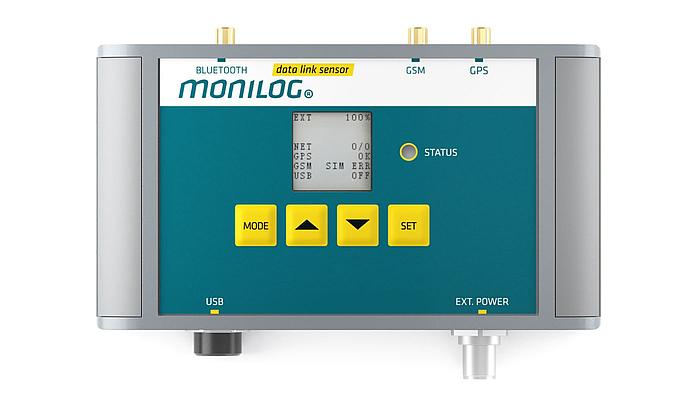 Housing:
Housing material: Aluminium, paint-coated, Degree of protection: IP 65; Weight: 1,15 kg (standard implementation including batteries); 3,35 kg (option with external battery box, batteries, magnetic mounting feet); Dimensions (H x W x D): 160 x 90 x 60 mm³ (standard implementation), 230 x 130 x145 mm³ (option with external battery box and magnetic mounting feet); Assembly type: Surface mounting (screwed connection recommended), alternatively magnetic-foot mounting
Operation / Storage conditions:
-20 °C to +70 °C with alkaline batteries -40 °C to +85 °C with lithium batteries
Internal voltage supply:
4 batteries of the type C and R14 (replaceable), alkaline batteries (each 1,5 V), lithium batteries (each 3,6 V), Operating time up to 1 year (with email interval of 24 h) or for 2 years with external battery box
External voltage supply:
5 – 15 V (max. 3 A) or battery box with 4 battery types D (R20)
External interfaces:
USB 2.0 Client (Mini-USB AB), Digital inputs/outputs: 2 switching inlets and 2 switching outputs (M12-plug optional)
Display and operating elements:
Display: Bistable monochrome display (96 x 96 pixels); LED: Status-LED (red/green); Keys: 4 operating keys for menu navigation and user inputs
GPS:
Channels: 22; Antenna: SMA socket for the connection of an external active antenna 50 Ω (3 – 30 mA/3 V/rod or cable antenna)
Mobile communications:
Frequency ranges: Quad Band EGSM/GPRS (850/900/1800/1900 MHz), Triple Band UMTS/HSPA (850/1900/2100 MHz); SIM card: Receptacle for 1,8 or 3 V SIM card, Standard SIM, micro SIM (on request)
Bluetooth:
Bluetooth 4.0 Low Energy (master role) Encryption: AES-128 Radio link: Simultaneous 2,4 GHz radio link to up to 8 MONILOG® sensor modules (for data synchronisation and device configuration)
Data storage:
Data receipt for a minimum of 10 years (independent of battery status); Memory type/size: 512 MB flash parameter and data storage
Device approval:
CE, UKCA, IC, FCC, registration with Bluetooth SIG
sensor module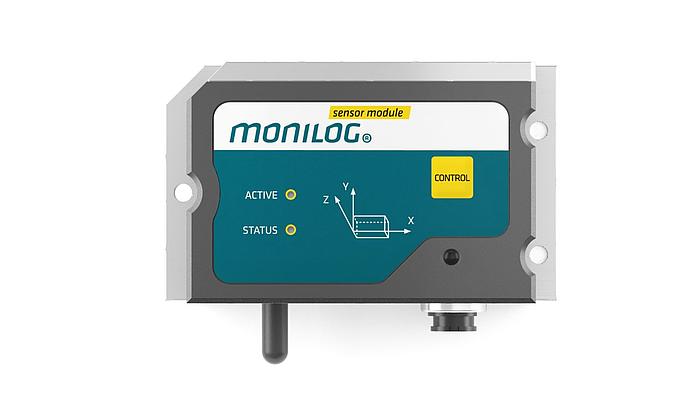 Housing:
Housing material: PVC + Aluminium Degree of protection: IP65 Weight: 0,385 kg (standard implementation including 1 battery), 0,455 kg (variant 2LR6 including 2 batteries); Dimensions (H x W x D): 120 x 72 x 41 mm³ (standard implementation), 120 x 72 x 54 mm³ (variant 2LR6), Ø 25 mm x 15 mm (small magnetic base); Assembly type: Surface mounting (screwed connection recommended), alternatively magnetic-foot mounting (on request)
Operation/Storage conditions:
-20 °C to +70 °C with alkaline batteries, -40 °C to +85 °C with lithium batteries
Internal voltage supply:
1 battery type AA or R6 lithium 3,6 V or 2 batteries type AA or R6 lithium or alkaline (variant 2LR6 or 2LR6AL) or 6 batteries type AA or alkaline R6 as a battery pack (variant 6LR6AL), Operating time dependent on the model and settings e.g. 1*R6 und 2LR6: 1 year (with synchronisation interval 10 min), 6LR6AL: 2 years
External interfaces:
USB 2.0 Client (Mini-USB AB)
Display and operating elements:
LED 1: green activity-LED + 1 red status-LED, Keys: 1 operating key
Bluetooth:
Version: Bluetooth 4.0 Low Energy (slave role); Encryption: AES-128; Radio link: 2,4 GHz to MONILOG® data link sensor
Data storage:
Data receipt: for a minimum of 10 years, independent of battery status; Storage type / size: 32 MB flash parameter and data storage
Acceleration / Shock (Shock-sensor modules only):
Measuring range: ±16 g (3-axes); Tolerance: ±0,32 g; Data records: 256 curves; In case of exceeding a registration threshold of 0,3 g, a shock curve is recorded (2 kHz, 1 s). The 256 highest shock curves are stored, optionally 3 g - 100 g (1 kHz, tolerance: ±2 g)
Temperature:
Measuring range: -40 °C to 85 °C; Tolerance: ±0,5 °C; Data records: 200,000
Relative humidity:
Measuring range: 0% RH –100% RH; Tolerance: ±2% RH; Data records: 200,000
Air pressure:
Measuring range: 260 – 1260 mbar (optional 10 – 2000 mbar); Tolerance: ±2 mbar (±4 mbar); Data records: 200.000
Light:
Measuring range: 0 lx – 188000 lx; Tolerance: ±10%; Data records: 200.000
Inclination:
Inclination calculation from static acceleration, In case of exceeding a inclination threshold, a inclination curve (10 Hz, 8 s) is recorded. Tolerance: ±3 degree, Data records: 320 curves
Conformity:
Device certification according to CE, UKCA, IC, FCC; Registration with Bluetooth SIG; Shock evaluation according to DIN EN 15433-6; Frequency analysis according to DIN EN 13011; Use according to IEEE C 57.150-2012