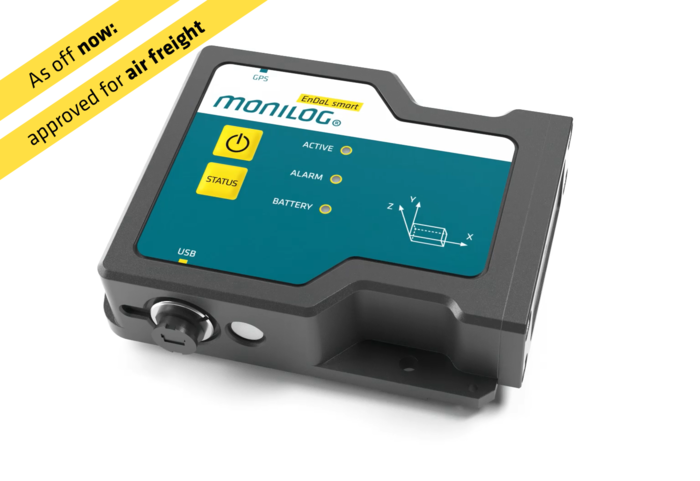 Extremely robust and compact transport data logger
Monitors compliance with transport specifications
Registers all mechanical shock events and stores the 500 largest with signal progress
Measures direction, strength, time, duration, minimum and maximum of the effect
Records temperature, air humidity and air pressure
Stores GPS coordinates for accurate positioning
Indicates limit value overruns with alarm LED
Integrated inclination sensor for the detection of tipping and swinging operations
Intuitive operation, extremely long and independent operating time
Easy to configure and evaluate with license-free software
Tamper-proof with multi-level password protection
Product description:
The MONILOG® EnDaL smart is a small, easy-to-use and versatile data logger.
It monitors sensitive goods on long transport routes and in critical environments, such as transformers, generators, switchgear or fragile optics, medical or automotive components.
The sensor technology of the data logger measures impact events, temperature, air humidity, air pressure and inclination.
The measurement data can be exported to external programs (e.g., Microsoft Excel), displayed and evaluated clearly.
All measured values can also be displayed as an immediate overview at a glance.
Via an integrated GPS receiver, the respective location of the transport goods can be located both at critical events as well as at time intervals. Up to 10,000 recorded position records can be thus imported, clearly visualized and evaluated e.g. in Google Earth© or other programs.
Commercially available alkaline or lithium batteries ensure a mains-independent power supply.
The minimum energy consumption and a long, maintenance-free operating time make the MONILOG® EnDaL smart an autonomous measuring device, which also works extremely reliably under adverse environmental conditions.
The license-free software MONILOG® Analyser allows easy and intuitive operation of the data logger.
A robust housing with an IP67 certifi cation protects the device from dust and splash water.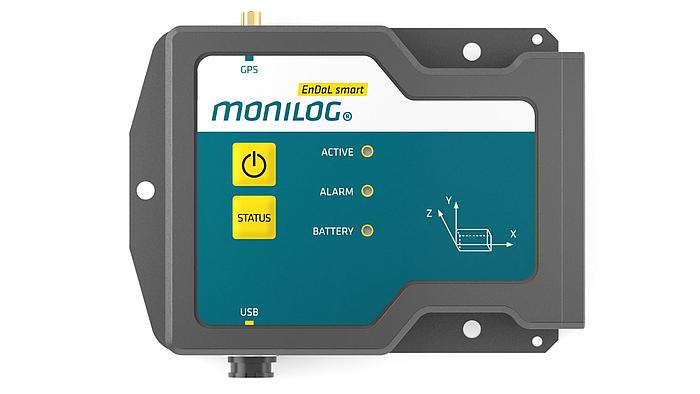 Housing:
Aluminium, powder-coated, degree of protection IP67, weight 750 g, size 35 x 140 x 100 mm surface mounting (3-point screwed connection recommended), magnetic foot mountings optional
Operation and storage conditions:
-20°C to +70°C with alkaline batteries -40°C to +85°C with lithium batteries
Data memory, time:
Data receipt for a minimum of 10 years, independent of battery status, 32 MB flash parameter and data storage, date/time as world time UTC, supported by the internal battery
Voltage supply:
2 batteries type C or R14 replaceable; Alkaline batteries (2 x 1,5 V, 8.000 mAh), lithium batteries (2 x 3,6 V, 8.500 mAh); At least 1 year operating time (with synchronization interval of 10 min, all options active)
Operating and indication elements:
1 green active LED, 1 red alarm LED, 1 red-green battery LED 1 on/off key (password-protected), 1 status key
Interfaces:
USB 2.0 Client (Mini-USB AB), SMA socket for the connection of an external, active antenna 50 Ω 3 – 30 mA / 3 V (rod or cable antenna)
GPS position sensing:
32 satellite channels (GPS, SBAS, BeiDou, QZSS)
Conformity:
Device certification according to CE, UKCA, IC, FCC, RTCA/DO160G, shock evaluation according to DIN EN 15433-6, frequency analysis according to DIN EN 13011, Use according to IEEE C 57.150-2012
Sensors and data measurement:
Acceleration and shock:
16g (3 axes, tolerance ± 0.32g), digital signal filtering, configurable registration threshold (start at 0.3g) per axis and minimum impact duration for recording the shock curves, when the registration threshold is exceeded, shock curves are recorded (3.2 kHz, 640ms), the 500 highest shock curves are stored (optional: 30g and 60g, 3.2kHz, tolerances to ± 1.2g)
Temperature:
-40°C to +85°C, tolerance ±0,5 K, 200.000 data records
Relative humidity:
0% – 100% RH, tolerance ±2% RH (on 20 ... 80% RH), 200.000 data records
Air pressure:
260 – 1.260 mbar ±2 mbar tolerance, (optional: 10 – 2.000 mbar ±4 mbar tolerance), 200.000 data records
Inclination:
Inclination calculation from static acceleration, with crossover of an inclination threshold, an inclination curve is recorded (12 Hz, 8 s, tolerance ±3°), up to 640 inclination curves can be stored
GNSS position data:
GPS, SBAS, BeiDou, QZSS, tolerance 100 m, 25.000 data records
Programmable parameters:
Shock registration thresholds x, y, z, minimum shock duration, shock strength, limit for slope, temperature, humidity, pressure, LED alarm indication, intervals for continuous measurement of GPS, slope, temperature, humidity and pressure, password for reading, configuring, On/Off switching, Start/Stop time for the data recording