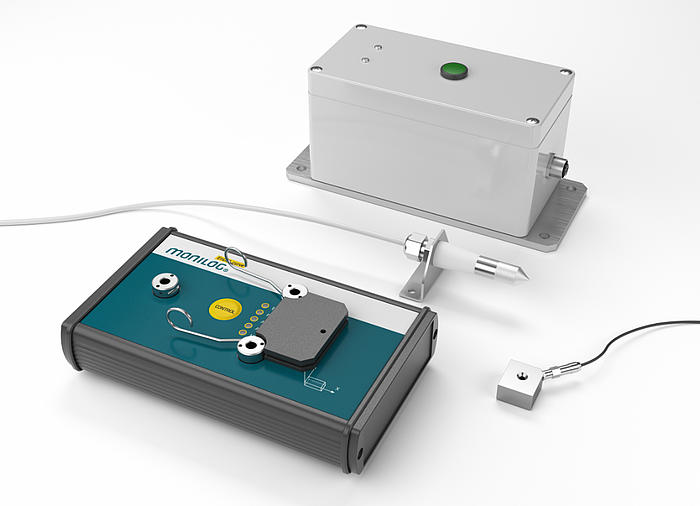 Monitoring of transport and handling of highly sensitive goods
Suitable for clean rooms – particularly suitable in the high technology sector
Acoustic alarm for limit values overruns
Measures acceleration, temperature, air humidity or pressure
High-sensitivity Triaxial low power ICP® acceleration sensor
Powerful and license-free ENCUR software
Customised special solutions
Extensive accessories
Product description:
EnDaL vi sound is a versatile modifiable data logger for demanding transport monitoring and safe machine handling.
Highly sensitive shock sensors immediately trigger acoustic warnings when the set limit values are exceeded.
Certain movement sequences can be quickly corrected by the staff and objects can be protected against improper handling.
EnDaL vi sound also measures temperature and air humidity.
Depending on the needs of the user, additional sensors for air pressure as well as up to 4 digital signals can be connected.
All measured values are stored in the data logger independent of the battery status and can be analysed after transfer to a PC.
Extensive accessories as well as userfriendly configuration and parametrisation enable EnDaL vi sound to provide a wide range of options for recording measurement data.
The measuring system is also available in a clean room design.
This is particularly well suited e.g. for transport monitoring of optics systems or lithography systems for semiconductor and microsystem technology, but also for transporting valuable art objects or other
highly sensitive goods.
The convenient ENCUR software for programming and data analysis is included in the delivery.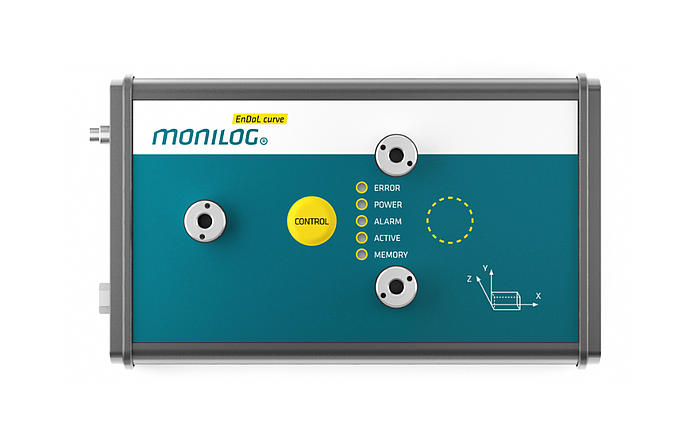 Parameters:
Acceleration in three directions (X/Y/Z), temperature, relative air humidity other sensors such as air pressure sensors can be connected and parametrised to analogue and digital inputs
Measuring ranges:
Acceleration 2, 5, 10, 20, 50, 100, 200 g (internal sensor), 50, 100, 200, 500, 1000 mV (external 3D-ICP® sensor, switchable), Accuracy ± (2% measuring range and 5% measured value); Temperature: -40°C to +85°C, resolution 0,1 K, accuracy ± 1 K, air humidity 0,2 to 100%, resolution 0,1% rH, Accuracy ± 3% rH (20 to 80% rH), ± 5% RH (0 to 100% rH); Analogue channel 0 ... 2,5 V, digital channel (4 inputs), Low: 0 to 0,8 V, High: 2,4 to 12 V
Connections:
for external 3D-ICP® sensor for external temperature, humidity, pressure sensor
Memory:
16.384 acceleration values, 16.384 temperature and humidity values each, 10 or 20 acceleration time graphs corresponding to the peak events, 4.096 digital events
Acceleration sensor:
Internal three-axial piezo-electric sensor or special, low-power 3D-ICP® sensor with 0.1 mA working current per channel connected with voltage amplifier input, sensitivity of the charge and voltage amplifier individually configurable, cable length up to 40 m
Analogue filters for acceleration measurement (frequency response):
Filter type: Bessel 4th order, low pass; Upper limit frequency: 16 to 1000 Hz can be set together for all channels, Lower limit frequency: 0,2 Hz for internal sensors, 0,5 Hz for external acceleration sensors
Temperature sensor:
Internal or external sensor in a sensor tube, up to 40m cable
Humidity sensor:
Capacitive polymer and temperature sensor in tube dia. 17 mm, 80 mm long, up to 40 m cable
Measuring duration:
Internal batteries: R14-NiMh battery up to 1.000 h, R14 Alkaline 1500 h, R14 Lithium up to 2.000 h, 9 V-Block up to 100 h; External battery pack: NiMh battery up to 1.500 h, Alkaline up to 4.500 h, special designs on request
Power supply:
2 standard R14 (C) batteries, optionally external battery pack + additional internal 9V block, automatic switchover mode
Data storage:
Min. 6 years, irrespective of battery status
Graph recording mode:
2 kHz sampling rate, 1 s or 2 s recording per event
Housing:
Aluminium, powder-coated, IP65 degree of protection. Weight 800 g, dimensions 180 x 106 x 37 mm
Operating elements:
Magnetic ON/OFF switch, buttons and LEDs for status indication, optional test connector via RS232
Data interfaces:
RS-232 connection (USB via adapter)
Programming:
Sensitivity, channel selection and frequency range, acceleration response threshold 5 … 75% of the measuring range, minimum shock amplitude; recording duration for acceleration-time graph, time interval of temperature and humidity measurements, analogue channel, password protection, alarm threshold
Conformity:
Device certification according to CE, RoHS, WEEE; Shock evaluation according to DIN EN 15433-6; Frequency analysis according to DIN EN 13011; Use according to IEEE C 57.150-2012